Monkey Bars
I wanted some big monkey bars for the backyard, for the kids and me. I had several objectives:
Thick grips on at least some bars
Allow inclined climbing
Make it big to allow multiple (kid) climbers
Have it connect to (and structurally support) the upcoming treehouse
Here is a view of the completed structure in action: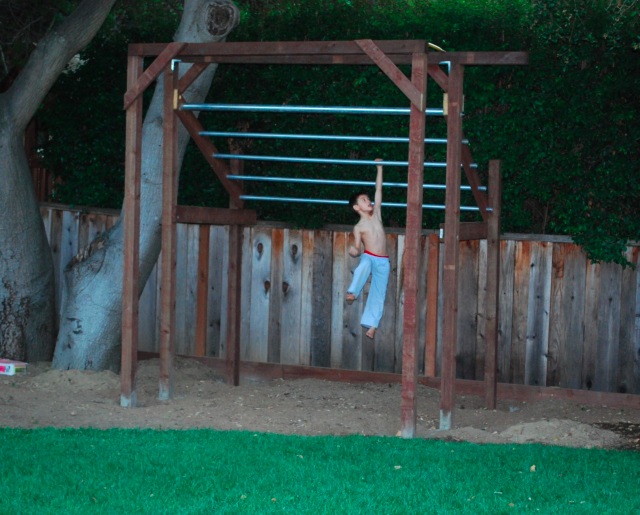 Materials used:
(5) 4"x4"x10' pressure treated posts
(3) 4"x4"x8' pressure treated posts
(3) 2"x6"x10' pressure treated boards
(4) 1⅝" steel fence poles
(1) 2⅜" steel fence pole
(2) sets of (6) 24" monkey bars
(5) bags of post-setting concrete
(4) ½ diameter carriage bolts (+ nuts and washers)
(numerous) 2½" long exterior grade SPAX screws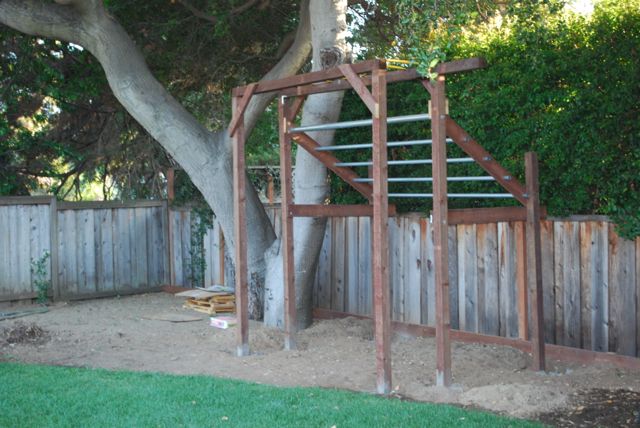 The lowest horizontal pole is 5' high, just within reach of my 5 year old. The highest horizontal pole (the thick one) is 8' high, just right for me. The set of conventional monkey bars are 9' high.